Let me paint a picture in your head...
A few people are over, the vibe is right, and drinks are flowing.  Music is playing, people are laughing and everyone is having a good time until...all of the sudden *sniff sniff*.
Or perhaps, a guy you've been dating comes over for the first time. You really like this one, and you even cleaned up your apartment thoroughly with the anticipation that he might stop by after your date for a drink.  You're cozied up on the couch watching a movie thinking the night couldn't be more perfect... when all of a sudden... *sniff sniff*.  You play it cool hoping he wont pick up on the scent, simultaneously praying he wont think it came from you.  It is too late...now-not only are you trying to ignore the smell, but also the sound of your cat digging around in sand in her highly visible litter box. 
As much as I love my cat, Capri…there is no way around the awkwardness of having a cat litter box in an apartment under 1000 sq ft.  There is NO such thing as a good place for a public animal toilet. And despite the fact that 36 million households have cats in the U.S. (yes, I googled that), there is NO way to not look like a gross cat lady when your cat does her business while company is over.
Friday, I felt inspired to do some projects around the house. Upon moving some furniture around there was one piece I just couldn't find the right spot for… the litter box.
Like most millennials, when they need to brainstorm, I headed straight to pinterest, hoping the DIY cat lovers community would have a solve for me.
I saw lots of cat litter sheds, or tunnels that led to outside but nothing I felt that would be a good fit for a girl in an apartment who owns the most basic of toolkits. You know the one your dad gave you when you went away to college that basically consists of 4 nails, a hammer and a screwdriver (which may or may not have pink handles).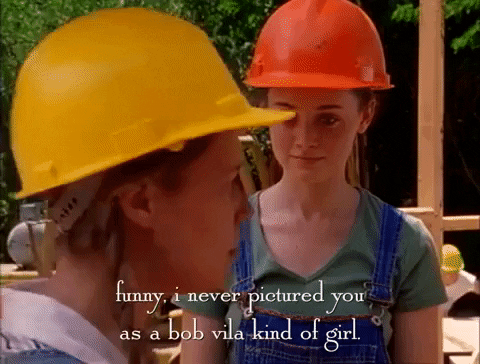 Then it dawned on me...I could turn a vintage trunk I found at a thrift store into a simple cat litter box shed that would not only give her privacy, but would also avoid potential horror in future guest's faces.
I called up my local Ace Hardware and asked them how they could help me. They said that I would probably only need a jigsaw to do the job and that I could either rent one from them or take the trunk to another location and have them cut the hole for me. Being the "independent woman" that I am, I took them up on their offer to rent me a jigsaw and walked on down to Ace. Steve, one of the managers there, was super helpful in helping me rent the jigsaw and explaining to me how to use it.  (scary thought, I know!)
Because Steve was trying to save me money on needing to rent a drill for a starting hole, the hardest part of the whole project was creating a hole in the trunk- wide enough to start the jig saw line.  So you can imagine, quite literally, in order for me to create a hole.. I used a hammer and a reallllllly big nail. (LOL).  
My poor neighbors downstairs put up with my pounding and pounding to break through what I thought was only wood, but actually had an aluminum coating on top. So here I am, just pounding a giant nail into the corner of my lines big enough to get the jig saw blade in to begin cutting along the square. This repeated at each corner in an effort to not break the blade as I was turning the corner. Sawing along the stenciled line was pretty easy until I got to the handle at the top of the square which gave me little room to maneuver. 
Once I got the square out, the hole was big enough for Capri to enter in and out as she pleases.  I lined the bottom of the trunk with a rubber mat which will help to eliminate excess litter escape out from her paws and replaced the clean litter box.
When I first put her in the trunk she was a little confused and I felt it might be too dark for her in there. I added a battery operated motion sensor light that I found at Ikea to the lid of the trunk along with a sticky deodorizer that is originally intended to keep trash cans smelling fresh. Finally I used Velcro sticky tape to attach the scooper for easy access when its time to clean up. 
If you were making this yourself, you could take it a step further and add a pet door but I felt like it wasn't necessary and would've required a drill to screw holes in to secure the door.
Now I have a trendy accent piece of furniture next to my couch and a secret litter box all in one!  
I love DIY projects and cant wait to share more with you in future posts! Leave a comment and let me know what some of your proudest DIY projects are!
xo, Jillian (and Capri)
Please reload